Why should you update your website?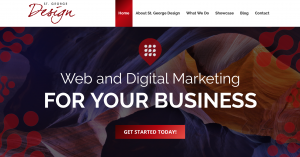 A website update and redesign for your business can be a daunting task.
You've got to take new pictures around the business for the new website, or hire a photographer to do it for you. Write new text for the site. Shoot a video of a client testimonial. Then you either need to go about hiring a designer or figure it out building a whole new site on your own.
So you put it off. Your site's doing okay, you rank pretty highly in local searches, why rock the boat?
First off, here at St. George Design, we make the whole process easy. We'll take care of all of those challenging and time-consuming tasks that are keeping you from reimagining your website.
If that's not reason enough, here are a few more reasons why you should start the process of a website update.
Styles change.
If your site has a look and feel like it was built in the early 2000s, visitors to your site will notice. The front page of your website is the first impression many people will get from your company. You wouldn't want a sun-bleached and faded sign outside your building making that first impression on your potential customers. So why would you settle for an old-school, outdated website greeting them on-line?
Security.
This one we can't stress enough. If you haven't touched your site in years, chances are you have code that needs to be updated. Plugins, themes, templates, all of the things that add functionality to your site, need to be updated often. Ignoring these updates can leave you vulnerable to hacking. Trust us, there are a lot of hackers out there looking for sites to hijack. It's not a matter of if your site will be probed and attacked by bots engineered by hackers, it's a matter of when. And once they get access, anything can happen. From hiding Google ads in sites to adding pages that link to websites in China, we've seen it all. And all of these can destroy your site's look, reputation, search engine rankings, and much more.
SEO.
Search engine optimization. The one and only way to truly improve your SEO is to build a better website. First, post content that's relevant to your business. Then, properly tag it and optimize it so search engines can crawl it and earn what your site is about. The more content you have relative to the search terms you want to rank for, the better your search results.
It's that easy and hard at the same time. There are a lot of folks out there who will try and sell you on shortcuts and quick ways to improve your businesses organic placement when it comes to search. But much like the vast majority of "get rich quick" schemes, they don't work for long. Don't fall for it. Do SEO the honest way and post useful content.
Dated Content.
If you've got dated info or old events listed on your site, it can have a negative impact on visitors perception of your business. Dated information on your site about events that took place long ago makes it look like you're either out of business or just don't care enough to keep your site up to date.
Branding & Sales.
Re-vamping your website provides a great opportunity to rebrand. From freshening up your logo, cleaning up your site, to telling your story all over again, you can explore all kinds of new ways to engage with your potential customers. If your website isn't providing you with the leads you want or selling as much product as you'd like, a refresh can have a significant impact. Your site should be telling your story, showing customers how you can help them survive and thrive and make their lives better. You're the guide they've been looking for to help them on their journey. Storytelling is a powerful tool when it comes to business. Your website is the best way for your business to tell its story. And if it's not performing, you need to find a clearer and simpler way to convey your core offering to your customers on your site.
A website redesign doesn't have to be a expensive chore.
St. George Design is proud to provide our clients with inexpensive web design serivces. We love building great looking sites, and we make it easy for you to get exactly what you want. Surf around, see what your competitors are doing, check sites like Pinterest for web design ideas. Then let us know what inspires you and we'll help you make it a reality on your site.
In addtion, we provide photogrpahy, and videography and we've got award-winning writers and editors on staff to make your written content sing as well. We make the whole process easy from start to finish.
If it's been a few years since you last updated your website, contact us today and let us show you how we can improve your site and while we're at it, we're always happy to show you how you can leverage your new site and the great new content you create with an amazing social media or digital advertising campaign.